Scan Wizard - Step 3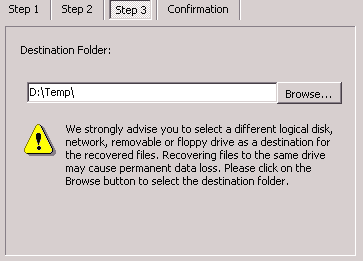 In the scan wizard step 3, you need to specify the destination where you want the recovered files to go. We strongly advise you to select a folder on a different logical disk, network, removable or floppy drive. Recovering files to the same drive may cause permanent data loss. You may click the [Browse..] button to select the destination folder.
Once you complete all the three steps, Scan Wizard will show a confirmation. Click [Finish] and WinUndelete will start the scan. It may take a while depending on your disk size and other factors. The deleted files and folders will be displayed in the explorer-style main window. You may navigate through the folder trees to find and recover your desired files.